We Too Had Many Pretty Things When Young, Melt Down As If Wax In The Sun's Rays
Artist: Noelle McAlinden
Image Title: We Too Had Many Pretty Things When Young, Melt Down As If Wax In The Sun's Rays
Medium: Acrylic on canvas
Dimensions: 30cms x 30cms
Artist Statement
The above painting and title are inspired by the William Butler Years poem Nineteen Hundred and Nineteen, the futility of war, the lack of leadership and the political, economic, social and emotional instability that we exist within.
The phrase 'Melt down like wax in the sun's rays' comes from Yeat's poem Nineteen Hundred and Nineteen. The following is an extract from the poem:
We too had many pretty toys when young;
A law indifferent to blame or praise,
To bribe or threat; habits that made old wrong
Melt down, as it were wax in the sun's rays
Powers and Empires Pass Away, Radiant and Unconquerable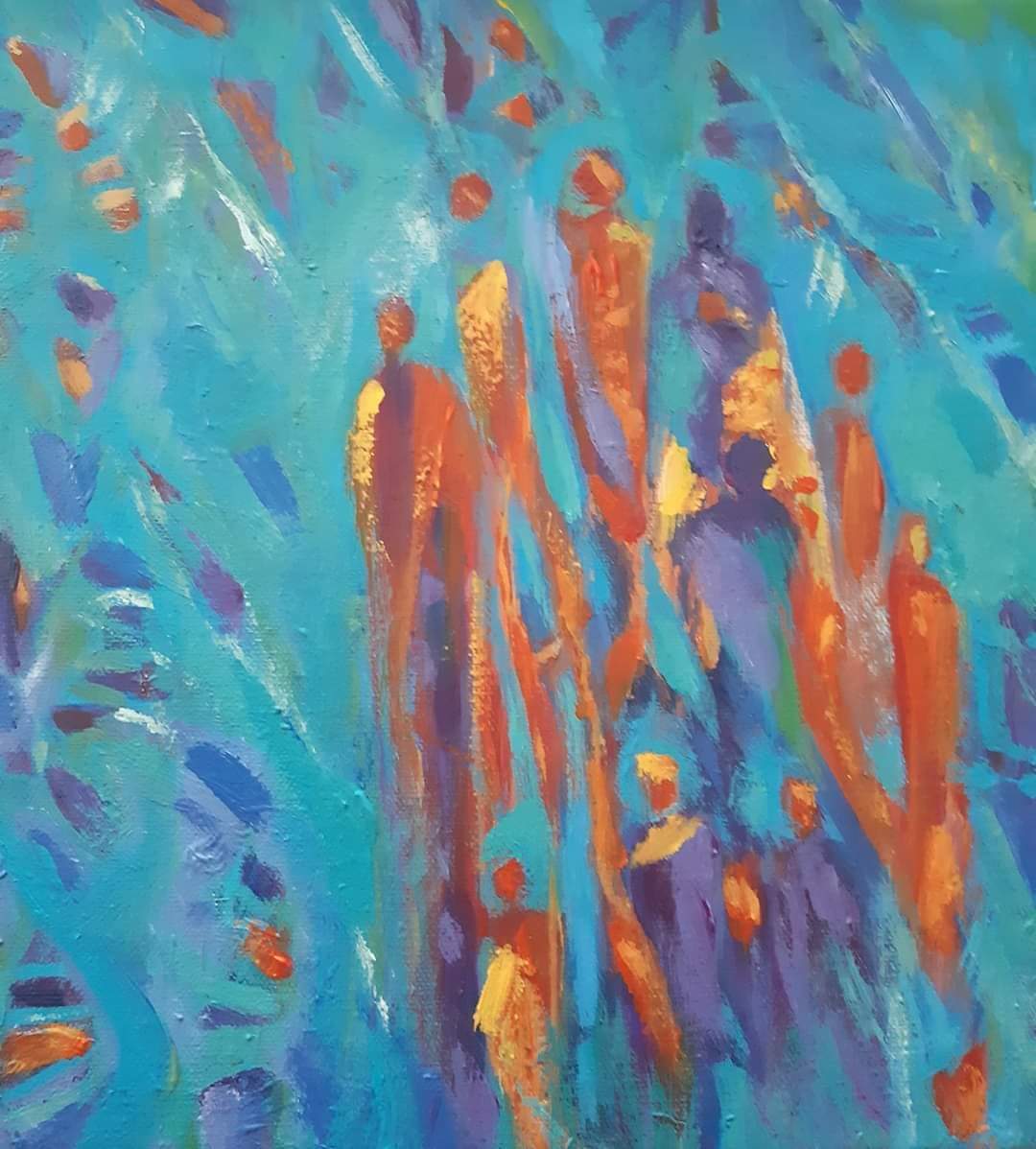 Artist: Noelle McAlinden
Title: Powers and Empires Pass Away, Radiant and Unconquerable
Medium: Acrylic on canvas
Dimensions: 30cms x 30 cms
Artist Statement

The above painting is inspired by the poetry of Irish woman Eva Selina Laura Gore Booth (1870-1926). Eva was a poet, playwright, trade unionist and feminist who campaigned for equal rights for women. She was born at Lissadell House, County Sligo, and was the younger sister of the Irish revolutionary leader Constance Gore-Booth, later known as Countess Markievicz. Because of a respiratory illness, she spent time recuperating in Italy with her family. While in Italy she met her life-long partner Esther Roper who was equally committed to women's suffrage and equal rights.
Eva and Esther lived in England where they were active as leading members of the trade union and suffrage movements. Eva regularly campaigned alongside Esther to organize for the rights of works in terms of seeking better working conditions. Eva was a leading suffragist and worked alongside the Pankhursts. Eva had superb organisational skills and in 1908 she organised a male candidate in favour of female suffrage to stand against Winston Churchill in a bye-election as Churchill was against the female franchise. Eva ran the campaign and defeated Churchill in an election in which she could neither stand in or vote in herself.
The title of Noelle McAlinden's painting 'Powers and Empires Pass Away, Radiant and Unconquerable' is from Broken Glory by Eva Gore Booth, and expresses freedom, self-expression and living authentically with self-expression not constrained by injustice and the shackles that bind us, imprison us, and deny us our human rights. Below is an extract from the poem by Eva Gore Booth written to her sister C.M. (Constance Markievicz) on her 'prison birthday' in February 1917.
What has time to do with thee,
Who hast found the victor's way
To be rich in poverty,
Without sunshine to be gay,
To be free in a prison cell?
Nay on that undreamed judgment day,
When on the old world's scrap-heap flung,
Powers and empires pass away,
Radiant and unconquerable
Thou shalt be young.

By Eva Gore-Booth from Broken Glory.
Noelle McAlinden – Inspirations
Originally from Maghery, on the shores of Lough Neagh, Orchard County, the close association with references to the shoreline and her father's family business, as a market gardener, the references to the precious cargo of the past and the evolving present of childhood memories and experiences have inspired her work. Living now in Fermanagh over thirty 37 years, a former student of TP Flanagan and Iconographer Sr Aloysius Mc Veigh and currently Creative Adviser, Artist, Curator and Cultural Broker/ Programmer and Arts Activist. Noelle continues to be committed to supporting arts and culture across education, community, voluntary, youth and health sectors.
Noelle's work varies in size, scale, subject matter and treatment, from large-scale oil paintings to small mixed media pieces on canvas. The work is vibrant in colour and texture that appeal strongly to the eye with recent work consisting of an extraordinarily vivid panorama of colour, light and imagery, abstract and semi representational. The work to date has evolved from the figurative/narrative tradition.
The choice of subject matter and treatment of it has evolved in a logical development from previous solo exhibitions, Waterways of the mind, Out of the Blue, Eve–oloution, Precious Cargo and Emotional Landscape.
Abstract works are inspired by experiments with colour, texture, light and semi animated marks, traces of life that somehow continue to be figurative. The paintings in oils and acrylics cover surfaces and canvasses that have been distorted, distressed, layered with texture and colour, with fragments that have been constructed and deconstructed exposing colour beneath the surface.
Inspiration is drawn from who the artist is and where she has come from and where she is now, both the physical world the artist lives in and the private world within her that carries the Precious Cargo of the past and all its diverse, dynamic and evolving happenings, the magic of gained knowledge & personal insight. An Artist who has mined deeper with age, where with a love of emotive colour, scorched canvasses emerge. Where blue tones and strong exotic tones collide. Where inspiration is sought in everything and every experience, and where the artist paints large-scale as well as small, and welcomes the happy accident.
According to Noelle, 'My work has evolved, it comes from my life, my soul, experiences, memory and imagination. Shaped, nourished by events and accidental happenings, family, friendship and a sense of place.'
Inspiration for her work comes from who she is, the physical and emotional waterways and landscapes navigated virtually and metaphorically, the rhythm of poetry and music and the precious cargo carried within, the losses and gains of the fragile human condition. An artist who has mined deep, with a passionate sense of colour who has exhibited extensively within and beyond unique gallery settings on and along waterways, throughout Ireland and Europe as well as Oklahoma and India over the coming months.
About the Artist
Noelle McAlinden is a Visual Artist, creative advisor and Mental Health campaigner, curator and Cultural broker. As a practising artist, Noelle exhibits locally, regionally and internationally with work in public and private collections across the UK, Europe, the US and Canada. Noelle is a Creative Adviser, Curator, Arts Educationalist, a former Head of Art and Design in a Post-Primary school and Senior Lecturer for Arts at Fermanagh College of Further Education. Noelle teaches across a range of sectors including primary, post primary, university and prison sectors. She is an international Artist in Residence in University of Transylvania, Lexington Kentucky as part of The Governors School of Art.
As an Arts Activist for almost 39 years Noelle has worked across statutory, voluntary, youth and community sectors. Noelle is passionate about all artforms promoting visual and performing arts, moving image, film and digital literacy. She was Chair of Creative Youth Partnerships and served as Chair of The Forum for Local Government and the Arts. She is an active advocate for the arts supporting the development of artists and creatives and promoting collaborative and strategic partnerships locally, regionally and Internationally. Noelle is also passionate about the power of the arts to transform communities, support cultural tourism, economic regeneration, health and wellbeing and support  for peace and Reconciliation. Noelle is an ambassador for positive mental and emotional well-being with a dedication to the prevention of suicide.