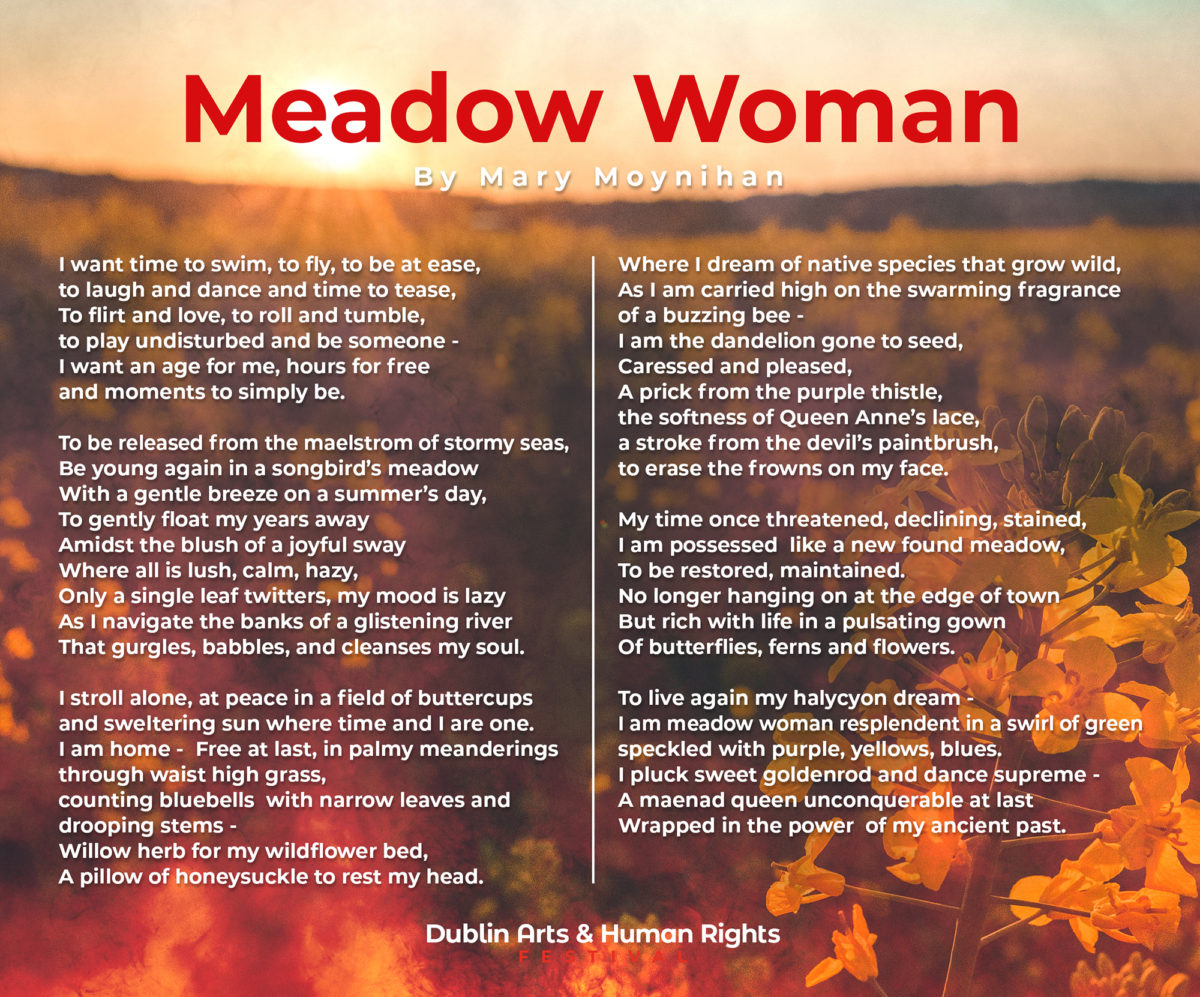 Meadow Woman
By Mary Moynihan
I want time to swim, to fly, to be at ease,
to laugh and dance and time to tease,
To flirt and love, to roll and tumble,
to play undisturbed and be someone –
I want an age for me, hours for free
and moments to simply be.
To be released from the maelstrom of stormy seas,
Be young again in a songbird's meadow
With a gentle breeze on a summer's day,
To gently float my years away
Amidst the blush of a joyful sway
Where all is lush, calm, hazy,
Only a single leaf twitters, my mood is lazy
As I navigate the banks of a glistening river
That gurgles, babbles, and cleanses my soul.
I stroll alone, at peace in a field of buttercups
and sweltering sun where time and I are one.
I am home – Free at last, in palmy meanderings through waist high grass,
counting bluebells with narrow leaves and drooping stems –
Willow herb for my wildflower bed,
A pillow of honeysuckle to rest my head.
where I dream of native species that grow wild,
As I am carried high on the swarming fragrance of a buzzing bee –
I am the dandelion gone to seed,
Caressed and pleased,
A prick from the purple thistle,
the softness of Queen Anne's lace,
a stroke from the devil's paintbrush,
to erase the frowns on my face.
My time once threatened, declining, stained,
I am possessed like a new found meadow,
To be restored, maintained.
No longer hanging on at the edge of town
But rich with life in a pulsating gown
Of butterflies, ferns and flowers.
To live again my halycyon dream –
I am meadow woman resplendent in a swirl of green
speckled with purple, yellows, blues.
I pluck sweet goldenrod and dance supreme –
A maenad queen unconquerable at last
Wrapped in the power of my ancient past.
Copyright: Mary Moynihan
Artist: Mary Moynihan
Title: Meadow Woman
Medium: Poetry
Artist Statement
Meadow Woman is about the freedom to be oneself, to be released from the maelstrom of stormy seas. Life is like the ocean, you have calm days and you have stormy days and we must make the most of the days that are fine because we do not know when the storm is about to descend. When it does come, it is important to hold on. The poem came about after reading about the destruction of wild flower meadows and the detrimental impact this is having on the environment. Letting nature grow wild is a fundamental part of a healthy earth as wildflower meadows support biodiversity particularly in urban areas. The poem reflects an ancient female energy that is both masculine and feminine, connected to a spiritual self, intertwined with the rhythm of life itself.
Inspirations
For artist Mary Moynihan 'my influences have been the people I love, nature or the way of being and a sense of mystery. I am drawn in by historical memory, alternative narratives and what is hidden or unseen especially stories that live in liminal spaces and on the edge'.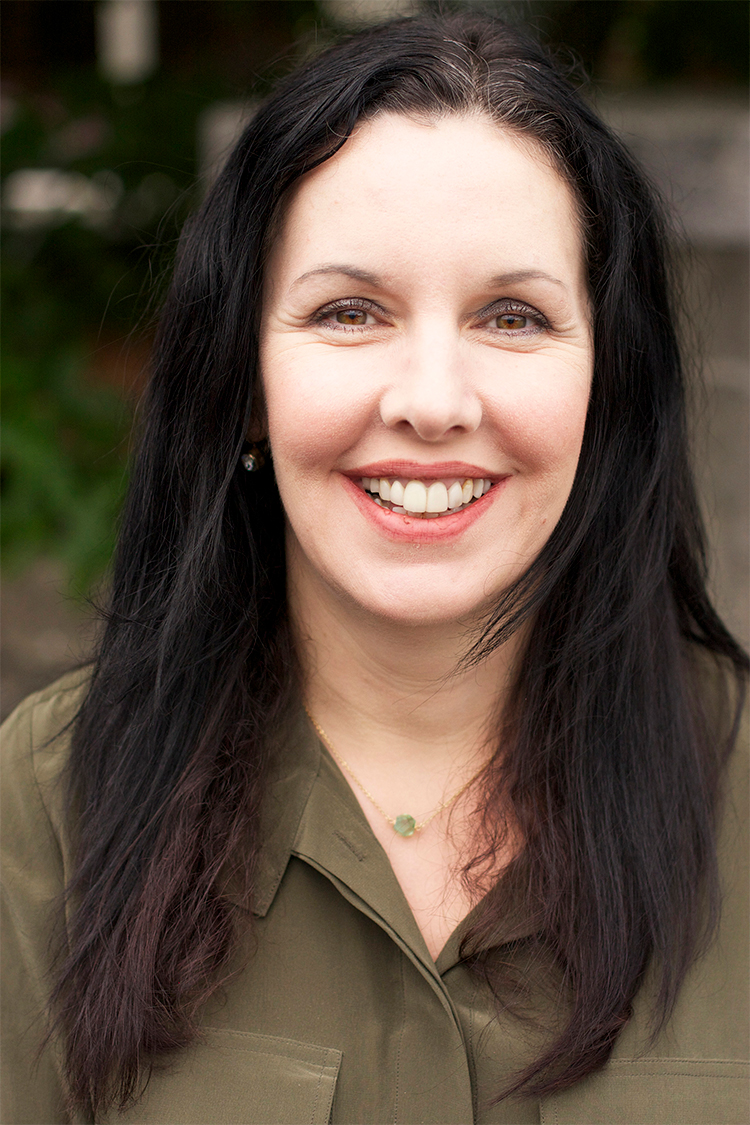 About the artist
Mary Moynihan, MA, is a writer, theatre and film-maker, and Artistic Director of Smashing Times International Centre for the Arts and Equality incorporating Smashing Times Theatre and Film Company and Smashing Times Youth Arts Ensemble. Mary is a Theatre Lecturer at TU Dublin Conservatoire.
As Artistic Director of Smashing Times, Mary specialises in professional theatre and film practice and in using the arts to promote human rights, peace, gender equality and positive mental health, developing cutting edge, arts-based programmes with a range of organisations at local, national and international levels. The work of Smashing Times is underpinned by a rights-based approach and a commitment to artistic excellence and social engagement. Company patrons are First Lady Sabina Coyne Higgins, Senator Joan Freeman, founder of Pieta House, Ger Ryan, actor and Tim Pat Coogan, writer and historian.
Mary has worked as lead artist on a range of award winning projects including Acting for the Future which uses theatre to promote positive mental health and well-being, run in partnership with the Samaritans and supported by the HSE National Office for Social Inclusion, and the highly successful European projects Women War and Peace, Women in an Equal Europe and the Comet Lines: Freedom Trails of Europe run in partnership with organisations from Spain, Germany, Poland, Croatia, Belgium and Serbia, with repeat funding from Europe for Citizens.
Mary has worked on a range of projects in Northern Ireland using the arts to promote peace building and reconciliation. Key work includes The Memory Project which uses theatre and film to promote peace and non-violence, run in partnership with CAIN (Conflict Archive on the Internet) and the University of Ulster INCORE International Conflict Research Institute. Mary has designed a series of drama workshop models to promote anti-racism, anti-sectarianism, human rights, gender equality, positive mental health and suicide prevention. Mary has been invited to present in Ireland and across Europe in relation to the
numerous award-winning projects she has created and worked on.
As a playwright, Mary's work includes the highly acclaimed The Woman is Present: Women's Stories of WWII by Mary Moynihan, Deirdre Kinahan, Paul Kennedy and Fiona Bawn Thompson; In One Breath from the award-winning Testimonies (co-written with Paul Kennedy); Constance and Her Friends and Grace and Joe – selected by President Michael D. Higgins for performance at Áras an Uachtaráin for Culture Night – and May Our Faces Haunt You and Silent Screams.
Mary is the author of 'Loving the art in yourself' and 'Interview with Margaret Toomey' in Stanislavski in Ireland – Focus at 50 edited by Steve Burch and Brian McAvera, published by Carysfort Press, 2013. She wrote  chapter titled 'Death of a Mother' for Motherhood in Ireland, edited by Dr Patricia Kennedy, Department of Social Policy, UCD, Mercier Press, 2003. She co-authored a chapter titled 'Laughing Together: Community-based theatre's vital sense of humour' for Comedy in Contemporary Irish Theatre, edited by Dr Eric Weitz, University of Dublin, Trinity College, Carysfort Press, 2004.
As a theatre director, professional directing credits include the The Woman is Present: Women's Stories of WWII on Irish and international tour (co-director Bairbre Ni Chaoimh); scenes from A Midsummer Night's Dream by William Shakespeare for the Abbey Theatre, Dublin; Uprising scripted by Tara McKevitt and devised by Smashing Times at Project Arts Centre Dublin and on national tour; Thou Shalt Not Kill by Paul Kennedy at Project Arts Centre Dublin and Lyric Theatre Belfast; Romeo and Juliet by William Shakespeare, Samuel Beckett Theatre; Macbeth by William Shakespeare, Conservatory of Music and Drama Theatre; Orphans by Dennis Kelly, Focus Theatre; The Crucible by Arthur Miller, St. Dymphna's Oratory, Grangegorman; Shattering Glass and In One Breath (Testimonies) for Smashing Times at Project Arts Centre and Helix Theatre, Dublin; Olga from Picasso's Women by Brian McAvera for Focus Theatre; Orpheus Descending by Tennessee Williams, Mill Theatre Dundrum; Two Rooms by Lee Blessing for Focus Theatre; Talk To Me Like The Rain and Let Me Listen by Tennessee Williams, Focus Theatre; May Our Faces Haunt You (nationwide tour); A Chain of Hands (Royal Hibernian Academy, National Museum of Ireland and the Mansion House, Dublin); Medea (Smashing Times on nationwide tour); Yerma by Federico Garcia Lorca and Riders to the Sea by JM Synge, Samuel Beckett Theatre, Dublin. As an actor Mary has worked in theatre, television and film including RTE's Fair City, Federico Garcia Lorca's The House of Bernarda Alba at Focus Theatre and End of Term by Maeve Binchy on nationwide tour.
Film work includes the television documentary Stories from the Shadows, the short film Tell Them Our Names, selected for the London Eye International Film Festival and Kerry Film Festival, the creative documentary Women in an Equal Europe and the short film Courageous Women based on powerful women's stories from the decade of commemorations period 1916 to 1923 in Irish history. The latter two, the documentary and film, will be distributed to festivals in 2021.